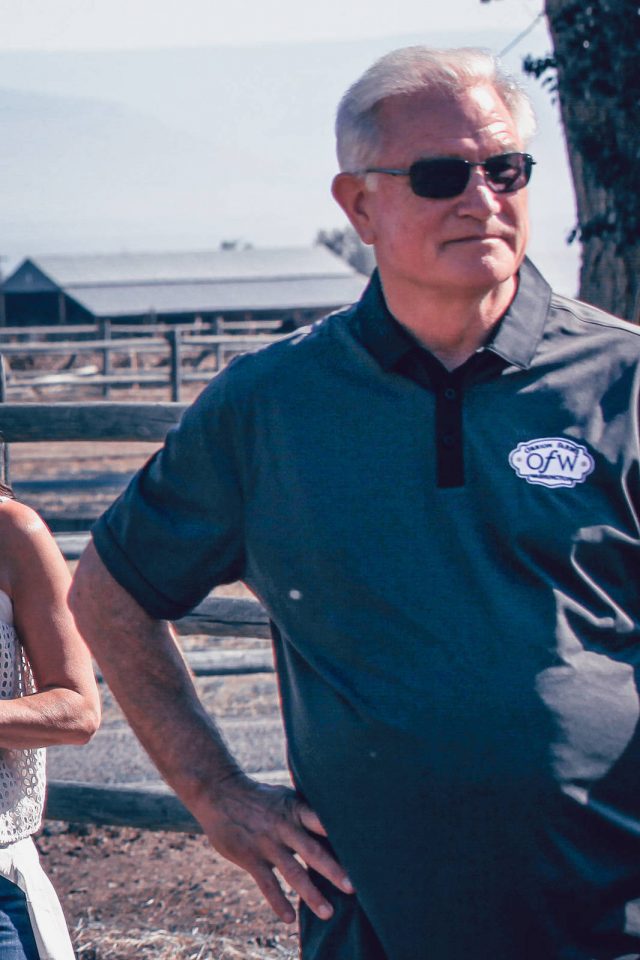 You have been in the Arabian horse industry for generations, give us a little insight into your history with the breed.
My grandfather was a saddlebred trainer in Chicago, Don Leadley.  He had one of the largest riding academies in Chicago.  I learned to ride with him, the same riding instructor as Bob Battaglia.  My father managed a big breeding farm in its day Heritage Hills Arabians.  The dam of Ali Jamaal, Heritage Memory, came from this farm in Lake Geneva Wisconsin.  After graduating high school I began training horses with my father and the rest is history.
Tell us how Orrion Farms Came into your life.
While I was managing Bey Shah in 1999 I had a special mare by the name of GA Honisuckl Rose.  The Orr's were out shopping for a mare, they purchased her and she went on to be one of the most decorated mares of all time.  This opened the door and then in 2000 the Orr's asked me to come up and manage the farm for them in Washington.  And that was the beginning of a beautiful career and friendship for me with OFW.
What was your biggest break?
Without doubt managing Bey Shah+.  He is my all time favorite horse.  He was quite the character, you simply had to know him.
How has the Arabian horse enriched your life?
First off I love the animal and the Arabian horse has given me a lifestyle that few people in the world enjoy.
What goals do you have for Orrion Farms, short and long term?
Short –  Build a breeding program with a strong genetic foundation.  I am a firm believer that the most important thing in breeding is predictability so our foundation was selecting mares and bloodlines that achieve the predictability in their foals.  I am a firm believer in mares as they hold the key to success in a breeding program.
Long – I would like Orrion Farms to be a worldwide catalyst allowing other breeders to share in our success and acquire some of the bloodlines that we worked so hard to get.  Allowing them to advance their breeding program and overall the breed.  We want to develop a genetic pool to help other breeders.
El Rey Magnum RCF, one of your early purchases for OFW and a true superstar, what can we expect for his future?
El Rey Magnum caught m
e off guard.  We had no intention of purchasing a colt/stallion.  I knew that his extreme type would capture Arabian enthusiasts worldwide and that type will help in the long term vision of the OFW Breeding program.
I hear you had a pretty amazing foal crop for 2018, which foal is your favorite and why?
This is an unfair questions because we have two superstar colts this year and I simply cannot pick one.  As they grow and change I flip back and forth on which one is my favorite.  OFW 
Vaquero has a million dollar attitude and
OFW Renegade has overall beauty along with type and attitude.
As you are finishing up your breeding plans for 2019 what expected foal are you most looking forward to and why?
Again I cannot choose just one.  National Champion Queen has two coming next year, Versace and Ajman.    Just yesterday we got an embryo out of Vespera by Excalibur – that would be a full sybling to Exxalt and Exaltress.  Exaltress is in foal to QR Marc which should be extremely typey and of course the full sibling to El Rey Magnum will be exciting.  Easy to see why I am so excited about next years foal crop.
Last year at US Nationals OFW made quite a statement by winning 
THREE 

female halter titles – US National Champion Yearling Filly, Junior Mare and Senior Mare.  Describe why you choose to purchase those three horses and what those wins meant to you.
   One of our first purchases was Makayah, who went on to become the 2017 US National Champion Junior Mare  – She made a lot of sense because not only had she already won a national championship and I knew she would be a contender again this year, but her sire is an OFW bred horse – OFW Magic Wan.
    Second was LuLu Marajj – The very first trip I made with the new owners of OFW to purchase horses was to Scottsdale, AZ in search of a great show filly.  We saw so many horses on that trip, LuLu was one of the first.  Each day I kept circling back to her, there was simply something special within her.  After seeing all the available prospects in Scottsdale, I knew she was the one for OFW and the rest is history.
    Last was Queen Ayda FWM – I have always been a huge fan of *FA El Shawan and had made a few trips around the country looking for the perfect Shawan daughter.  However, she couldn't just be sired by Shawan, she had to be a star.  I heard about the Brazilian National Champion Mare and she was by Shawan.  Our goal always comes back to the breeding program and I had heard she had a beautiful colt in Brazil.  My father always says talk is cheap, so I had a video sent to me of that colt who was just crowned 2018 Unanimous Brazilian Champion
Junior Stallion-Razeer Serondella.  Queen checked off all the boxes – beauty, breed-ability and a successful show horse.
     We've been told we were the first farm in history to win all 3 female titles at US Nationals and that is something to be proud of.  While these wins validated my ability to select outstanding horses, the even bigger picture was the fact that the new owners of Orrion Farms had great success.  I was more thrilled for them than for myself.  And finally I believe it solidifed the message to the Arabian community that Orrion Farms was seriously devoted to the Arabian horse and the future of the farm.
What hobbies do you enjoy outside of the horses?
I am a huge sports fan, football, basketball – you name it!
What are some of your favorite travel destinations?
My favorite was South Africa, the country is beautiful.  The most beautiful city I have ever been in is Cape Town.  And I love the safaris, enjoying and seeing these majestic animals in their natural habitat!  I also really enjoy Paris!
Tell us something we wouldn't know about you.
Most people don't 
realize that I ride horses, I have since I was 
a kid and always loved 
it.  I competed and trained primarily saddle seat and driving horses.